About Us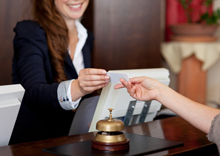 Our passion is to convert your hotel guests into raving fans and your very own army of endorsers. We offer innovative products and services, expert ideas and free resources – everything you need to evolve from being "one of the hotels" to "the hotel of choice" and to help you get those elusive five-star online reviews.

As hotel owners ourselves, we have experimented with numerous things, went back to the drawing board several times until we found the solutions that actually work. We're sharing this two decades of experience to you.
As with any other industry, the battle within the hospitality industry has moved online – it's what you're saying versus what your competitors are saying versus what your guests are saying versus what their guests are saying. It's a game of perception and word-of-mouth has never been this powerful. Our products, services and resources hit two targets simultaneously – elevate the hotel experience you offer and get you the raving reviews you're craving for.
Start getting more reviews and improving your online reputation. Start Here