Review Tools - Social Bucks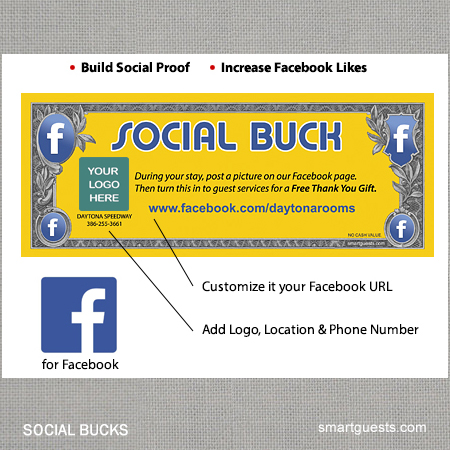 START ORDER
Choose Design & Customize:
Social Bucks:
Are your guests interacting online?
Have you struggled to build social media presence?
Our Social Buck coupons are the perfect tool to drive traffic, likes and engagement to your social media pages including Facebook and Twitter.

How to Use Social Bucks:
1) Hand Social Bucks out at check in with key packet.

2) Explain to the guest.."During your stay, if you post a picture of your visit with us on facebook, turn this Social Buck in for a free gift"
3) Then when they post a picture, you reply to their post on fb with a question such as "Did you try our waffles?" or "Did you take a dip in our pool?"
This will drive engagement, likes, shares and the picture that your guests post will be seen by their friends and they will remember your hotel.
It's social currency! And it works like a charm!

Gift Examples: Bottle of Water, Bag or Chips or Snack, Free Breakfast Voucher, Free Drink, Upgrade, Rewards Points and more.
Product Specifics:
Size: 2.15″ x 5.5″
Material: 14pt Cover Stock with UV Gloss
1 sided (blank back maybe used for notes)